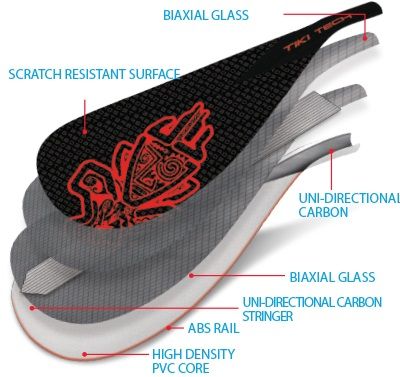 TIKI TECH BLADE
• High density PVC Core reduces resin uptake making the blade stronger and lighter than ever.
• UD Ca
rbon stringer continues all the way from the neck to the blade, enhancing the reflex characteristics and strength.
• Full ABS rail and special scratchproof surface finish.

BLADE SHAPE
A well-balanced all round blade design with a medium dihedral providing great stability and good power.
• The Low aspect design makes it easy to lift out of the water with each stroke and it is also great to lean on while wave riding.
• A favorite blade for world SUP surf Sean Poynter who uses a round shaft combination.
HYBRID SHAFT
• 27 grams (10%) lighter and stronger than 2015 Premium.
• Economical and great combination when paired with Starboard's Enduro and Bolt Tiki Tech blades.
FIXED HYBRID - CARBON
Round - 40
Tiki paddle a lot and found it fun to develop paddles shafts suiting the individual needs for our
various sized friends and team riders, to maximise their particular perfomance request.
A flexible shaft transfers energy in a more gentle way suiting long distance paddling and higher cadence.
A stiffer shaft provides a more direct transfer of energy and suits larger blades and taller riders wanting to use full lenght shafts.
When you cut a paddle shaft down to fit your size it automatically becomes stiffer, thus you may wish to choose a 42 mm shaft.

The stiffness is measured by applying 30kg in the center of the shaft, supported at 140cm distance to measure the deflection in mm.

• If the shaft bends, it shows a higher deflection resulting in more flex, compared to a stiffer shaft with low deflection.

• The 35mm has the lowest flex,42mm has the highest flex.
ENDURO PADDLE SPEC