SUP Yoga
Refresh your body and mind with SUP Yoga on our secluded private Lake just 5 minutes drive from Wetndry Boardsports. SUP Yoga gives you all the benefits of Yoga, whilst improving your balance & focus on the water. Yoga postures are performed using a SUP Board, that replaces the Yoga mat.
Our experienced Instructor is on hand to give you all the tuition you need, making classes ideal for anyone from Beginner to more experienced Yogi's. Our Private lake is in beautiful and peaceful surroundings that is not accessible to the public, so there is no need to be put off by onlookers.
We try to keep classes small, with no more then 8 students at a time. We provide all the equipment..all you need to do is be prepared to find your inner peace.
Don't forget we can also cater for group bookings. We try to be as flexible as possible, so if you have a bunch of friends that would like to give SUP Yoga a try, then just get in touch.
For more info on classes, dates or anything else..please don't hesitate to call us at the shop on 01268 569988 or email info@wetndryboardsports.com.
Next available Dates:
2018 Spring date comming soon!
Call 01268 569988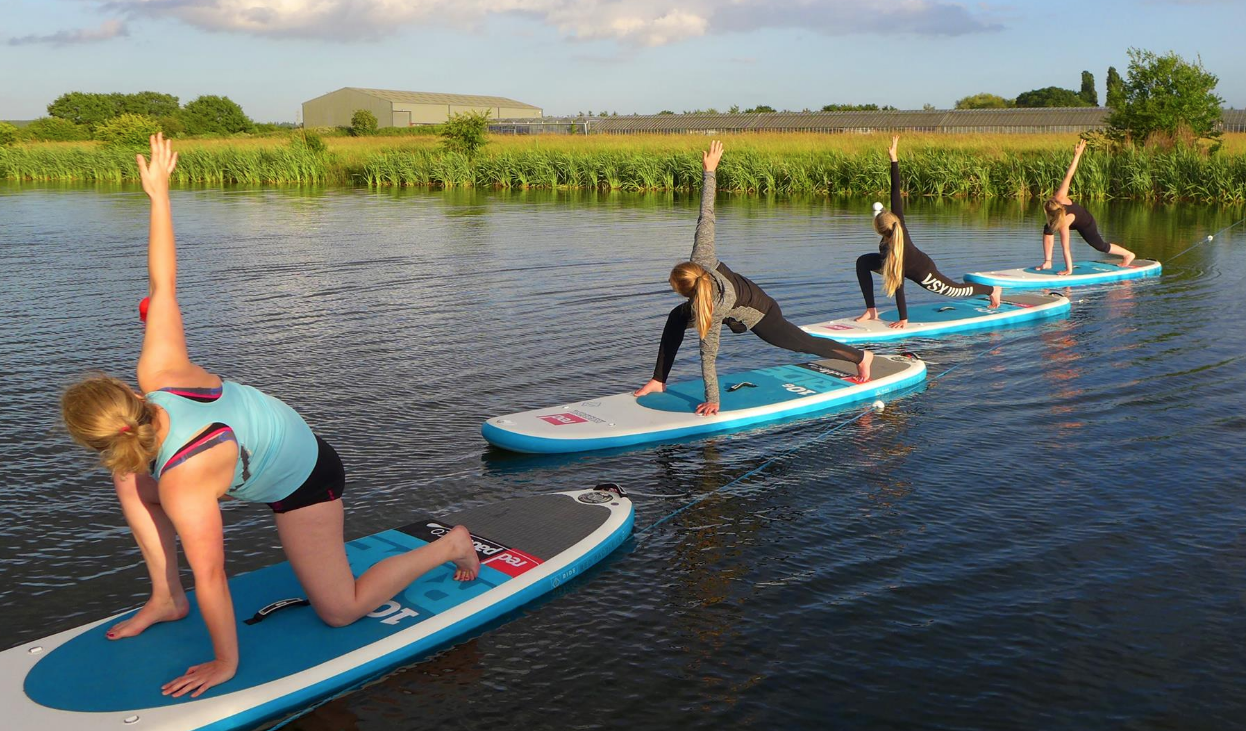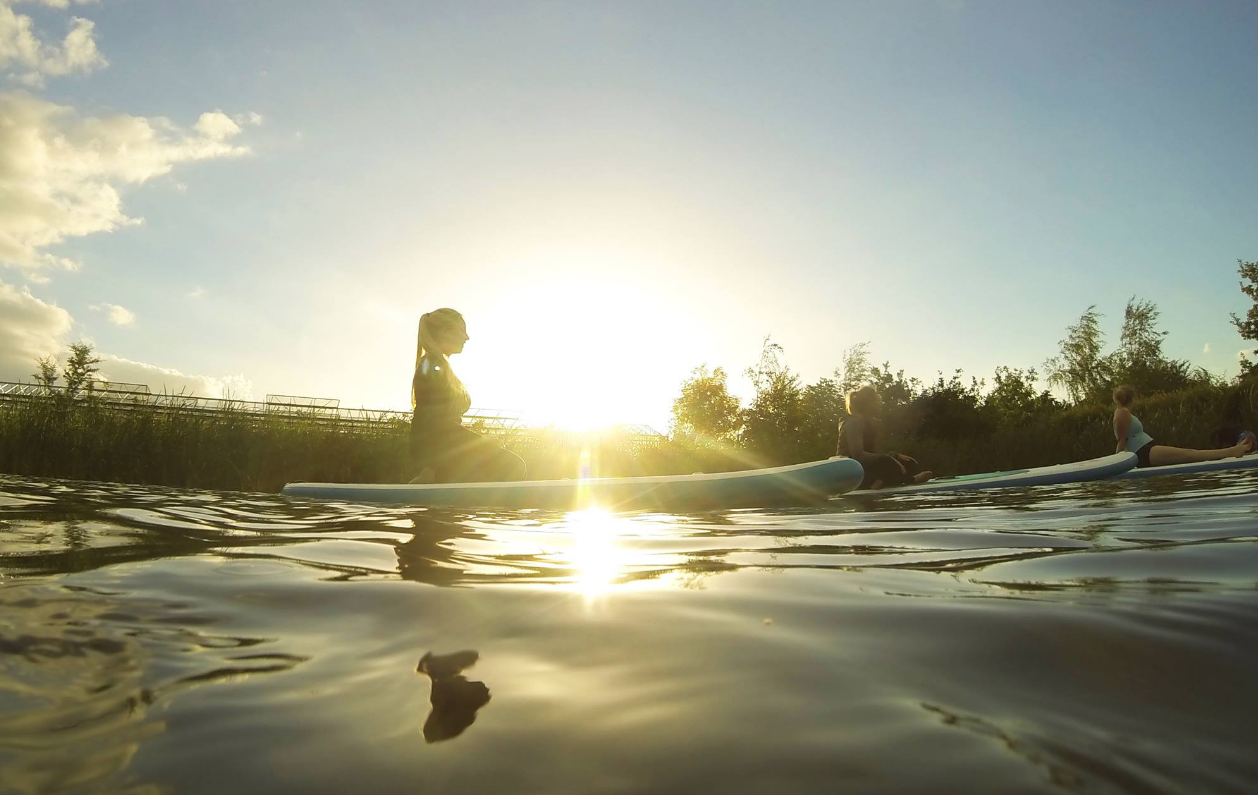 What is SUP Yoga?
SUP Yoga is taking your yoga practise onto a Stand Up Paddleboard instead of a yoga mat.
What are the benefits?
It's great FUN! It also increases the use of all your stabilising muscles as you feel every muscle engage to help keep your body balanced and stable on the board, while the water moves beneath you. This helps improve your focus and technique. Now combine this being surrounded by nature and you will heighten your whole mind, body and soul connection.
Who is SUP Yoga for?
SUP Yoga is for everyone from beginners looking to try something new to experienced yogis who want that extra challenge as poses and classes can be tailored to your ability, so no previous yoga experience or SUP experience is needed. It is an advantage though to learn the basic Stand Up Paddleboarding skills first, maybe with a Wet n Dry Learn to ride course, as this will give you a feel for being on a board.
Where are the lessons held?
SSSShhhhhhh. We have a secret spot, exclusive only to SUP Yoga Essex. So as well as being surrounded by the peace and tranquillity of nature you will have complete privacy to allow you to have the confidence to try the yoga poses and to unplug from the day to day stress and tune into your inner primitive rhythms, feeling the morning sun on your skin, the gentle breeze through your hair and maybe the water on your toes.
For more experienced SUP paddlers and yogis' we may also arrange other SUP Yoga sessions on the ocean though these are subject to tides as well as other weather conditions.
What should i wear?
What do you wear for SUP Yoga? Depending on the time of year and weather conditions, SUP yoga can mostly be practised in normal yoga clothing though be prepared you may fall in. At other times of year, summer type wetsuits can be worn.
When are classes held?
Saturday Sunrise Sessions – Between 7:30 – 09:30 – We allow a 2 hour window as this allows for a 1 hour SUP yoga class but this involves transport to and from the secret spot. As well as giving you time to unwind and get into your weekend, SUP Yoga shouldn't be rushed.
Later risers Session - Between 10am – 12pm
Midweek Sunrise sessions & sunset sessions are currently being planned. Please register you interest in these with us so that we may get some started.
How much?
Each Class is £25 – This includes board hire, wetsuit and buoyancy aid hire if needed and exclusive use of private lake for yoga session though sunshine isn't guaranteed.
10 Class pass – Save £75 by purchasing a 10 class pass for £175. Sessions must be booked in advance and must be used between May and September in the year of purchase.